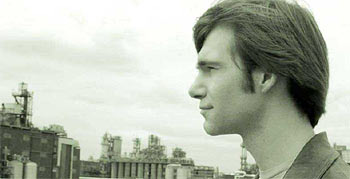 Well, its a rainy morning here in LA, but listening to this you would never know it. I have been coming around to Ananda's interpretation of house/techno for a while now. It is very similar to Dominik Eulberg's expansive interpretation of what techno can be. I remember reading somewhere that Eulberg was directly influenced by Sven Vath in the mid 90s and wanted to reinterpret that sound for today's dancefloor.
Discogs
says that Ananada had a similar experience with Vath and his tracks have many of the hallmarks of that mid 90s trance sound particularly the build and heavy use of melody. The difference is all in the bpm. The sound today is noticably slowed down and given more room so that a groove is allowed to develop, in contrast to the Eye Q stuff that is between 10 and 20 bpm faster.
This track is a collaboration with
Cio D'or
on the ace triebstoff records imprint. The 12" is a single sided vinyl with a textured back that is signed by both artists. Have at it collector scum!
Gabriel Ananda & Cio D'or - Lauschgoldengel